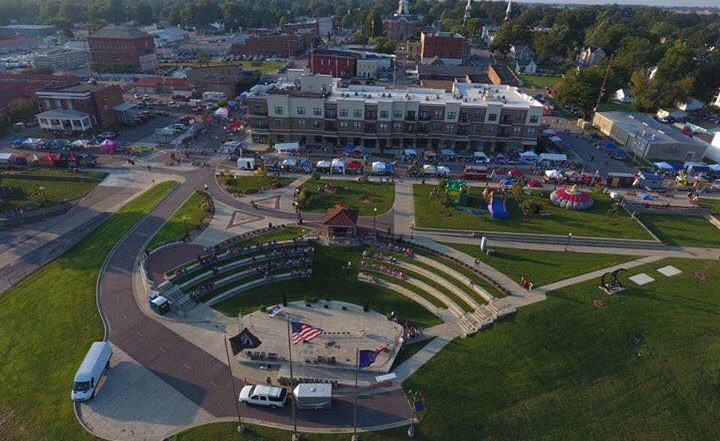 This year marks the 10th anniversary of Mount Vernon's Annual River Days Festival, and if you haven't experienced it yet, we suggest you think about canceling old plans and marking your calendars ASAP.  There are few places where you can experience the amazing history behind Lewis and Clark's discovery expedition, ooh and awe at hundreds of kids showing off their beloved pets in a parade, and taste 32 different recipes at a sanctioned BBQ contest. We could go on and on, but here are 5 reasons you cannot miss this year's River Days Festival!
1. Smoke on the Ohio BBQ Contest
Sanctioned by Kansas City BBQ, this year's Smoke on the Ohio BBQ Contest will host 32 teams battling it out to see who has the best BBQ recipe in the tristate and who will become the next Mount Vernon BBQ Champion.  There will be food to satisfy anyone's taste buds-with BBQ contest featuring delicious, dripping sauces on chicken, ribs, pork and brisket. Do you love BBQ? Then you won't want to miss out on this great competition.  
2. The Lewis and Clark Discovery Expedition Group
Imagine a 55-foot keelboat coming down the Ohio. The Lewis & Clark Discovery Expedition of St. Charles, Missouri will be bringing their historical demonstrations and 55-foot keelboat to this year's 10th Annual River Days, and it is a performance that you won't want to miss. More than 200 re-enactors will teach heritage through living history.  In fact, they are the only living history group who has handcrafted replica boats for the longest re-enactment journey ever attempted. Whether buckskins or uniforms, the Corps' clothing accurately recreates the dress of 1804. Their weapons are firelocks, they cook over campfires, they sleep under canvas, they know their history, and they teach.
3. Mr. Sharpe Magic Show on Saturday at 3 PM
If a historical reenactment doesn't persuade you to attend River Days this year, then perhaps a magic show will. Mr. Sharpe is a family and children's musician who performs magic shows all over the tri-state area. He has done magic shows on Channel 25 Local Lifestyles, El Charro Mexican Restaurant, private birthday parties, etc. and will giving a special performance on Saturday at 3 PM for all River Days attendees and their families. He says, "Doing magic for children is a skill unto itself. To a child the flower of a dandelion, snowfall, even a worm, are all more magical than any illusion. The real trick is to empower children to find the magic within themselves."  
4. Shopping the Vendor Booths
If you aren't one to partake in the festivities going on during River Days or you just want a break to walk around the festival, then you're sure to have a blast browsing the hundreds of food booths and vendors that line the Mount Vernon riverfront. Whether you are shopping for crafts to fill your home during the fall season, trying to find the perfect homemade Christmas gift for your loved ones, looking for a place to get your kids' faces painted, or even craving some delicious food, there is something fun for everyone in the family.
5. 10th Anniversary of River Days Festival
We're pulling out all the stops to make this year's festival the best one yet. If we haven't convinced you with historical reenactments, delicious BBQ, or a free magic show, then we urge you to simply come out to support Mount Vernon by shopping and eating.  Our Annual River Days event is one incredible event that brings our town and tristate region together to celebrate our Mount Vernon pride and history together- and that is something that you won't want to miss.
The festival runs September 8 to September 10. Find more details at https://mtvernonriverdays.com/.