A Place to Call Home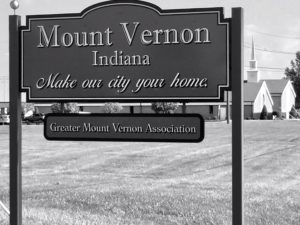 Southern Indiana is a great place to live, and Mount Vernon adds several special features. A low cost of living and close proximity to A-rated schools, healthcare and amenities. With SABIC and Country Mark, this community hosts some of the largest employers in the region.
Amenities in Town
Whether you're running to CVS, picking up groceries, grabbing gelato for a stroll along the riverfront or taking the kids to see their pediatrician, living in Mount Vernon will keep you close to what you need.
Alexandrian Public Library
The Alexandrian Public Library has been in existence since 1895 and actively serves the citizens of Mount Vernon and other nearby communities. APL is the primary source of knowledge and information about Mount Vernon, Posey County, and all additional media. Visit this historic building today and continue your educational growth.
Mount Vernon Health Systems
Mount Vernon, Indiana, is located between some of the best hospital system in the tri-state for all your serious medical needs. It's nice to have a family physician close to home, and Mount Vernon is home to physicians for all needs and ages. Live comfortably knowing that your medical needs will be adequately taken care of in or just outside of Mount Vernon.
In Proximity to Mount Vernon
Mount Vernon is just a short drive away from Evansville, IN, New Harmony, IN, and Carmi, IL, among other cities, as well as several landmarks such as the Shawnee National Forest in Illinois.
Within 20 miles:
Evansville, Indiana
Carmi, Illinois
University of Southern Indiana
Movie theaters
Chain restaurants such as O'Charley's, Applebee's, Hacienda Mexican Restaurant & more
Super Walmart
Schnucks Grocery
Within 25 miles:
Eastland Mall (Dillards, Macys, H&M, Build a Bear & more)
Target
TJ Maxx
Gander Mountain
Fresh Market
Relocation
Posey County offers a low cost of living, countless dining options, thriving local commerce and an A-rated educational system. Whether you're moving individually, starting your own family or retiring to a small town quality of life, Mount Vernon, Indiana, is the perfect destination for you and your loved ones.
Neighborhoods
Mount Vernon is home to several great neighborhoods for young families as well as singles, couples and empty-nesters. If you're meeting with a real estate agent, we recommend exploring some of these locations:
MIDTOWN: This area is made up mostly of traditional homes with easy access to churches, schools, government buildings such as the post office and banking centers.
WEST: Here you will find more upscale housing in areas like Park Ridge, Country Club Estates, Lakeview Estates, West Ridge and Western Hills Drive subdivisions. Enjoy locations nearby the Western Hills Country Club, Deaconess Clinic, the Children's Learning Center and West Elementary School.
NORTH: Aside from apartment rentals, some of the north side's most popular living areas include Lawrence Subdivision and Lakeland Ridge. This rural setting is adjacent to the SR 69 bypass. Nearby you'll find grocery shopping centers as well as the Farmersville Elementary School District.
EAST: You'll spot several rental properties and modern homes on the east side of Mount Vernon. The County Terrace Subdivision, located near Mount Vernon Senior High School and Mount Vernon Junior High School, provides easy access to shopping, banking and other specialty stores at the Southwind Shopping Center.
Moving to town? We'd love to have you as a neighbor! We recommend exploring your options early—homes do not stay on the market for long. If you're thinking of building your own home, Mount Vernon is home to many great builders and contractors.